LEAVE A LASTING LEGACY
Join our planned giving program
The Gil F. Staender Legacy Circle, WELC's planned giving program
Join our Gil F. Staender Legacy Circle! By naming Western Environmental Law Center in your will, trust, or other estate plans, you'll make a lasting contribution to the protection of the public lands, wildlife, and communities of the western U.S.
Gilbert F. Staender is a man to remember. He was an adventurer, passionate about the outdoors, and built a life upon perseverance. He lived simply and saved his earnings over the years. Gil was a WELC supporter who passed away in 2016 leaving more than half a million dollars to WELC in his will.
We are honored and words cannot express our gratitude to Gil and the life he led. In 2017, Ali and Rick Geraths, close friends of Gil, presented us with this gift. We shared a warm conversation, hearing stories of Gil's life. Having the knowledge of his life makes this gift so much more meaningful. In honor of his inspiring gift, we decided to name our legacy giving circle after Gil, and we wanted to share his story with you.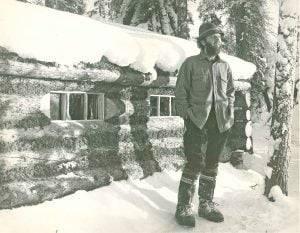 Gil was a conservationist, photographer, and lived a zero-waste type of lifestyle. His mother died when he was six and he lived in Germany in an orphanage during World War II. When he was nine, he took a ship across the Atlantic to the U.S. where he was reunited with his father. They moved near Portland, Oregon where Gil was raised. He became a guide on Mt. Hood and summited it more than 50 times. He and his wife, Vivian, spent a year in Alaska and wrote several books about the experience. They moved to Sisters, Oregon, in the 1960s, built an off-grid stone house, and Gil became a teacher. He also worked for the U.S. Forest Service and REI. He was known for his amazing cooking and lively sense of humor.
In defending the western U.S. through our legal advocacy, we will ensure Gil's positive impact on our Earth continues to be felt for years to come.
To join the Gil F. Staender Legacy Circle or learn more about planned giving options, please contact Michelle Loth at (206) 487-7244 or .
We appreciate and welcome gifts of all sizes.
Photo: Gilbert F. Staender (1930-2016) by his homestead in the wilds of the Brooks Range in Alaska in 1965. His love of nature lives on through his legacy gift to the Western Environmental Law Center.