Protecting the Kaibab National Forest from Cross-Country Motorized Travel
The Kaibab National Forest contains three geographically distinct ranger districts, all with extensive road systems. One ranger district sits on the north rim of the Grand Canyon, one ranger district sits on the south rim of the Grand Canyon, and another is located to the west of Flagstaff (and south of the Grand Canyon).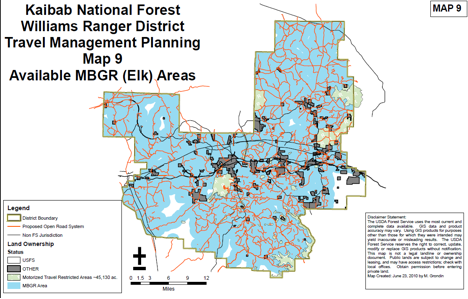 To prevent harm to the forest and its wildlife, travel management plans closed the forest to unlimited cross-country travel. However, the three ranger districts decided to allow motorized big game retrieval within one mile of every designated road in the forest. This opens the vast majority of each ranger district (more than 90 percent of the forest overall) to motorized cross-country travel for the purposes of big game retrieval. This virtually eliminates the ability to find areas of the forest that are open only to non-motorized recreation, and fails to minimize the impacts of motorized recreation on wildlife habitat, including that of the federally threatened Mexican spotted owl.
The Kaibab National Forest prepared three separate Environmental Assessments, and issued three Decision Notices/Findings of No Significant Impact for each ranger district's travel management plan. We challenged the three decisions in court, and are awaiting a decision from the court on the merits of our claims.